Beginning to see clients as a new therapist is brimming over with possibilities and real challenges.  Holistic and Buddhist-inspired mentoring supports and encourages you to meet what unfolds as you encounter the  joys and dilemmas of this stage of your development as a counselor, professional and person.
Counselor and Adjunct Faculty for Naropa University, Mindfulness-Based Transpersonal Counseling Psychology Department
Kind, practical guidance and support for beginning counselors offering therapy.
Dates:  Various, beginning in September 2018.  We meet once a month.
Place: We'll meet on line via Zoom,  unless you are in Minneapolis.  There are multiple mentoring groups, at various times.  If you wish to meet with people of your choice, form your own group!
Cost, etc…:  2 hour group of 5 people max. $75/person, $300 for the series.
Commit to all four gatherings.
Contact:  Mia at mia@miabolte.com or call 612-701–2027 to see if you'd be a good fit.
New therapists, this is for you!
(It's not therapy or official supervision.)
Fall 2018 Mentoring Groups On-Line and in MN
Monthly mentoring group meeting includes time to:
Build a circle of caring support and encouragement for one another through including every body's voice.
Ask questions, raise concerns and curiosities related to psychotherapy, counseling, working with others and oneself and receive input and counsel.
Process your experience outside of your internship site in a non-evaluative setting.  There's no review or grade here!
This is a great, affordable opportunity to get additional support and watch how to manage a group well, with an experienced group facilitator and teacher.
Be in touch now to learn more!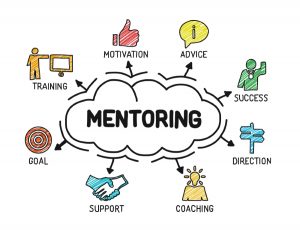 Thanks to the folks at Union County for this graphic! They too, know how important mentors are.