Relationships as Mirrors
Commonly, in our thoughtful moments, we are trying to understand our relationships.  In therapeutic work, the aim is to go beyond complaining about how and what your friend or partner does to upset and confuse you.  At some point, the relationship must become a mirror reflecting you to yourself.  Asking, "what is my role and part?" can help you generate some ideas about what you might want to pay attention to in yourself.  This will help you see how you are contributing to your own dissatisfaction.  Then, you can start making some changes.
Some people will identify that they have a co-dependent style.  Keep reading to learn what that means.
What is Co-Dependency?
There are many patterns and behaviors that we enact, all of us doing so in our own way.  Co-dependency, is a term that Melody Beattie brought into the mainstream with extensive writing on the subject.  Generally, it's thought to be a way of sacrificing your own needs for the sake of the other person in the relationship.  Of course, there is spectrum of behavior, and the difficulty arises when you are sacrificing too much.  Give and take reciprocity is a healthy mark of relationship.  Issues emerge when you are giving too much.
These are definitions Beattie offers in her book, "Beyond Codependency: And Getting Better All the Time."
Co-dependency, according to Earnie Larsen is "Self-defeating, learned behaviors or character defects that result in a diminished capacity to initiate or participate in loving relationships."
Here are two definitions for a co-dependent person, also from Beattie:
"A person who does not take care of themselves, whether or not they are, or have been in a relationship with an alcoholic."
"A person who has let someone else's behavior affect them and is obsessed with controlling other people's behavior."
Al-Anon is a non-profit group that has meetings all over the world for people who grew up experiencing alcoholism around them.  When that is the case becoming co-dependent is more likely.  If you want to know if Al-Anon or Adult Children of Alcoholics and Dysfunctional Families might be helpful to you, check out their websites, or ask around.  You probably already know somebody who is going to a meeting.
Whether or not the co-dependency label fits, is less important than understanding if you are being your most healthy self in your relationships.  Therapy can help you know the root and purpose of your limiting behaviors. Then, you have the chance to make real choices in service of more enjoyment and understanding of yourself and your dear ones.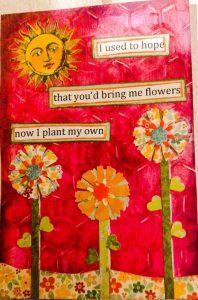 Art by Maureen Craddock, found here.